2003 Great Lakes Meet
On May 31, 2003, we held a Great Lakes Meet in New Buffalo, MI, organized by Dan Garnell. Many thanks to Dan for all his effort! We met at 1:00 PM EDT at Redamak's. The meet was well attended, with sixteen people from Illinois, Indiana, Michigan, Pennsylvania, and Wisconsin. (plus three non-roadgeek tag-alongs) The room had a great setup, with about 20 large picnic tables. We took up four corner tables. After eating, much discussion and sharing took place.
Here are some of the items brought and things discussed:
Chris had new 2003 Michigan maps for everyone.
Michael had rolled idea maps for some highway corridors.
Many stories told and discussions about ISPs and map-making.
Stephen had some old plans for the Chicago Crosstown Expressway and the Borman reconstruction.
Scott had the plans for the future Elgin O'Hare / I-290 interchange and a 1970 Milwaukee street map.
Brian had some old Michigan highway map books.
Chris also had an old Michigan highway map book.
Chris also showed us some of his U.P. map work.
Jeff had 2003 Ohio Turnpike maps for everyone.
Jeff also had some old Detroit, Michigan, and Indiana maps for our perusal.
Craig brought a map of the new Marquette Interchange and some other Wisconsin projects.
Chris and Barry compared Michigan maps which detail their travels. (Barry has completed all Michigan State Trunklines... Congratulations!)
There were many discussions about Illinois, Indiana, Michigan, and Wisconsin highways.
Everybody brought their knowledge and shared it willingly!
Plus much more that I didn't even know was going on! We needed it to be all day long, and in a conference room!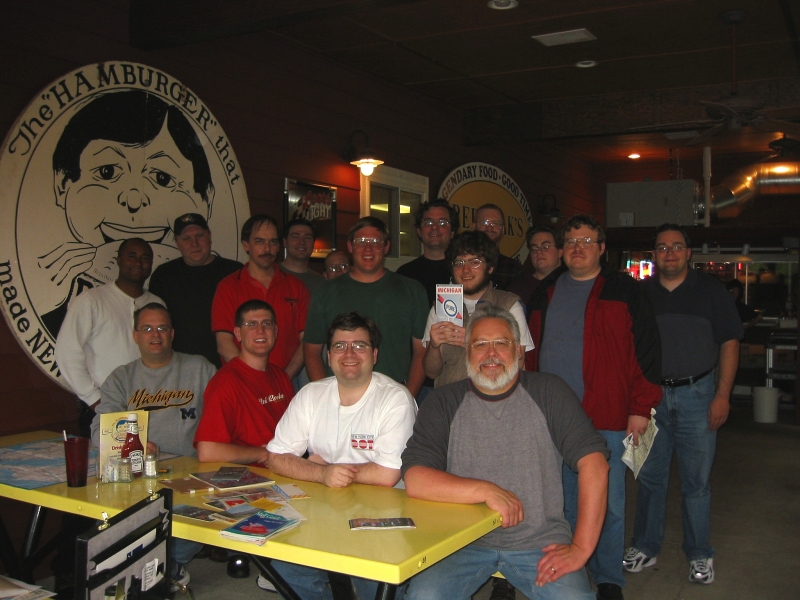 From left to right: Standing: Dino Hill, Eric Meier, Michael Koerner, Chris Bessert, Stephen Summers (hidden), Brandon Gorte, Don Hargraves, Bobby Peacock, Scott Kuznicki, Adrian Leskiw, David Chary, and Dan Garnell. Sitting: Barry Camp, Craig Holl, Jeff Kitsko, and Brian Reynolds. (Barry's fiance Rosie took the picture)
Here are some pictures Dan took during the meeting:
Shot 2
Shot 3
Shot 4

Attendance:
Chris Bessert - Grand Rapids, MI
Barry L. Camp (plus fiance Rosie) - Grand Rapids, MI
David Chary - NW IN
Dan Garnell - Allen Park, MI
Brandon Gorte - Joliet, IL
Don Hargraves - Munster, IN
Dino Hill - Eaton Rapids, MI
Craig Holl - New Berlin, WI
Jeff Kitsko - Latrobe, PA
Michael G. Koerner - Appleton, WI
Scott Kuznicki - Streamwood, IL
Adrian Leskiw - Ann Arbor, MI
Eric Meier - Niles, MI
Bobby Peacock (plus Mother and Sister) - Oscoda, MI
Brian Reynolds - Hastings, MI
Stephen Summers - Lake Station, IN

Some people trickled out after a couple hours of discussion, and the last bunch left for the parking lot around 5:30 PM. Some people checked out US 31 on the way home, and some investigated the I-65 / Indiana Toll Road interchange. Six of us (Chris, Brandon, Scott, Michael, Stephen, and Craig) started shooting the breeze in the parking lot for a while, which ended up turning into two hours. Finally, after 7 PM, we decided we were hungry and we went back in. (Except for Brandon, who had to get going) We got a booth and had a post-meeting meeting and ate some more great Redamak's food. Chris showed us his U.P. map project, among other discussions. Finally at 9:30 PM we left.

The 2003 Great Lakes Meet was a success, and enjoyed by all. Thanks again to Dan Garnell for organizing this event! Hopefully we can do this again sometime in the future!
If anyone wants anything added to this page about what happened, or you see any errors, feel free to tell me! I'd love to add stuff and make this more accurate!
---
Craig R. Holl / craigholl@hotmail.com / http://www.midwestroads.com/craigholl / http://www.midwestroads.com/mtr/2003greatlakesmeet.html / &copy 2003 / Revised June 6, 2003