2003 WI/IL Roadgeek Meet
On January 18, 2003, we held a Wisconsin/Illinois Roadgeek Meet in Milwaukee, organized by Scott Kuznicki and myself (Craig Holl). We met at 11:00 AM at Saz's State House Restaurant, as suggested by Michael G. Koerner. The meet was well attended, with fifteen people from Wisconsin, Illinois, Michigan, and even Mississippi!. There was a snow event happening in Chicago, so many people arrived a bit late because of that. But they all made it!
When we arrived at Saz's we realized that it didn't open until 11:15 AM. But we asked nicely and they let us come in and warm up at the bar. :) After we got our table, we ate, (delicious!) and then basically took over our area of the restaurant with maps and books. There was a lot of mingling going on and much information was discussed. We also took a Illinois and Wisconsin roadgeek quiz.
Here are some of the items brought and things discussed:
Illinois and Wisconsin maps for all those who wanted them.
Bob Spoerl, who works for WisDOT, had a few WisDOT photologs on CD for those who wanted them.
Bob also brought a printout of the new WisDOT map that will be coming out in 2003. Comments and suggestions were welcome, and Bob went back to WisDOT with almost two pages of notes! Exciting note: exit numbers are now included!
Rich Carlson had some Lake County maps and showed us how he stores his maps.
Michael G. Koerner had rolled idea maps for some highway corridors.
Many stories told and discussions about ISPs and map-making.
Scott Kuznicki brought some IDOT materials, including a nice Cook County Atlas.
Chris Bessert brought WisDOT books about the history of Wisconsin Highways.
Chris also had some old Michigan highway map book.
Chris also showed us some of his U.P. map work.
I brought a map of the new Marquette Interchange and a 1975 map of the planned Milwaukee road system (including arterials).
There were many discussions about Wisconsin, Illinois, and Michigan highways.
Everybody brought their knowledge and shared it willingly!
Plus much more that I didn't even know was going on! We needed it to be all day long, and in a conference room!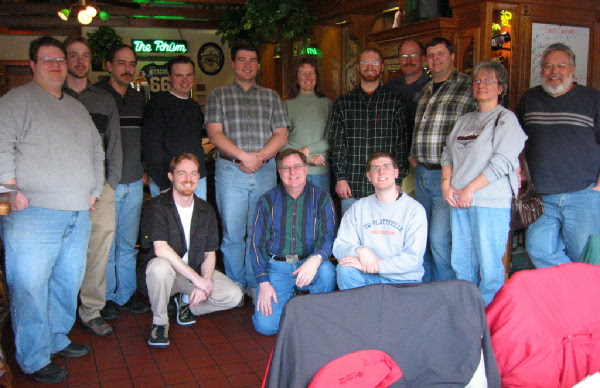 From left to right: Standing: Chris Lawrence, John Fisher, Michael G. Koerner, Jason Reuschlein, Chris Bessert, Lee Taylor, Scott Kuznicki, Bob Spoerl, Rich Carlson, Rexie Carlson, and Brian Reynolds. Kneeling: Rob McCaleb, Jim Rynders, and Craig Holl. (Brian's son Lewis took the picture)
Attendance:
Chris Bessert - Grand Rapids, MI
Rexie Carlson - Winnetka, IL
Rich Carlson - Winnetka, IL
John Fisher - Urbana, IL
Craig Holl - New Berlin, WI
Michael G. Koerner - Appleton, WI
Scott Kuznicki - Streamwood, IL
Chris Lawrence - Oxford, MS
Rob McCaleb - Madison, WI
Jason Reuschlein - Milwaukee, WI
Brian Reynolds - Hastings, MI
Lewis Reynolds - Grand Rapids, MI
Jim Rynders - Whitewater, WI
Bob Spoerl - Madison, WI
Lee Taylor - Whitewater, WI

By about 3:00 PM, all but five of us had left. (Scott Kuznicki, Michael G. Koerner, Bob Spoerl, Chris Lawrence, and myself) We decided to take a short tour of Milwaukee's cancelled freeways. We took Appleton Avenue and 76th St. up to the Fond du Lac Freeway, and took that and Fond du Lac Ave to 60th St. where the freeway was supposed to curve south. We cut through the neighborhood where the Park West/Stadium interchange was to be, and then went east along North Ave. There were about two miles of ROW cleared for the freeway, and now most of it is redeveloped. It is easily visible, either being vacant or very new. We toured the Park East Freeway spur demolition, and then checked out the new 6th St. Viaduct. We then took I-43 north, exited and then entered back through the Civic Center tunnels, and followed the Park East again. Where it ends, we followed where the ROW was cleared, but is now redeveloped. We then took I-794 over the Hoan Bridge, and looked at WI-794, the Lake Parkway. After taking the Airport spur, we took I-894 to Loomis Road, and checked out the somewhat built Stadium South interchange. We then took 43rd St. to the stadium, looking at where the freeway would have gone. Then just a short drive up the Stadium Freeway (which was really busy), and we were back at Saz's around 5:00 PM.

The 2003 WI/IL Roadgeek Meet was a success, and enjoyed by all. I hope we can do this again sometime in the future!
If anyone wants anything added to this page about what happened, or you see any errors, feel free to tell me! I'd love to add stuff and make this accurate!
---
Craig R. Holl / craigholl@hotmail.com / http://www.midwestroads.com/craigholl / http://www.midwestroads.com/mtr/2003meet.html / &copy 2003 / Revised February 9, 2003