US 151 Expansion/Realignment - Mineral Point Bypass
US 151 is being upgraded to a 4 lane expressway between Dodgeville and Dickeyville, WI. This upgrade, taking place from 2001-2005, will finish US 151 as a 4 lane facility between Madison and Dubuque, IA. In 2001 WisDOT started the portion from Dodgeville to Mineral Point, and the Mineral Point Bypass. (see map)
On Sunday, November 18, 2001, I explored the Mineral Point Bypass construction as I travelled from Platteville to Waukesha. The first sign of construction I encountered was just south of Mineral Point, south of CTH O. That is approximately where photo 1 was taken. Photo 2 is taken a few hundred yards north of there. They are both looking at the new bridge over the bypass for what will be the southern interchange in Mineral Point. I'm assuming current US 151 will become Business 151. You can also see some major rock cuts in all the pictures. I then drove up to the bridge site to take photo 3. A couple bridges are being built over a creek that flows into the Mineral Point Branch of the Pecatonica River.
I drove to WI 39 northbound and headed out of town. Two bridges are being built over WI 39, and there will be no interchange. Photo 4 is looking northbound on the bypass at the WI 39 bridges. The next stop was Lake Road, which also has a couple bridges going over it. Lake Road goes west of the bypass and then curves around to go near it again. At that point both Lake Road and the bypass have bridges over another creek. I was able to drive onto the new alignment and take a photo looking south at the bridge piers. Photo 5 shows that more rock removal needs to be done on this section, as well as north of there.
Since I was on the new alignment, I decided to drive on it as long as I could. After a little more than a mile, I came across the northern interchange, shown in photo 6 looking north. These bridges were complete, and I was able to drive over them. Unfortunately, just north of the interchange the construction crew had just laid down some very soft gravel, and I started to sink in. The gravel started just south of the overpass seen in photo 6, which I believe is for Weidenfeller Road, a dead end. After turning around I drove down the ramp and returned to US 151 via a new road that will presumably be Business 151.
The new alignment joins with existing US 151 just north of CTH D. The new roadway is to the west of the existing highway. (i.e. the existing alignment will become the northbound lanes, and the new roadway will be the southbound lanes.) There will be three at-grade intersections between the bypass and the WI 23 interchange south of Dodgeville. One at CTH D/Barreltown Road, one at CTH Y, and another north of there to give access to a couple frontage roads.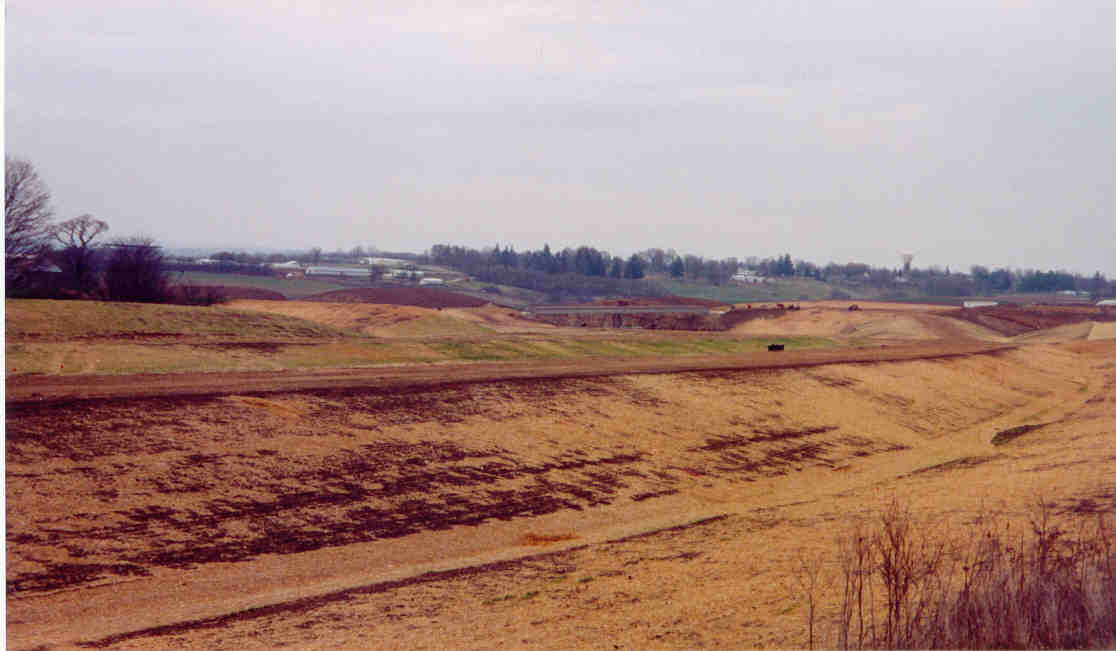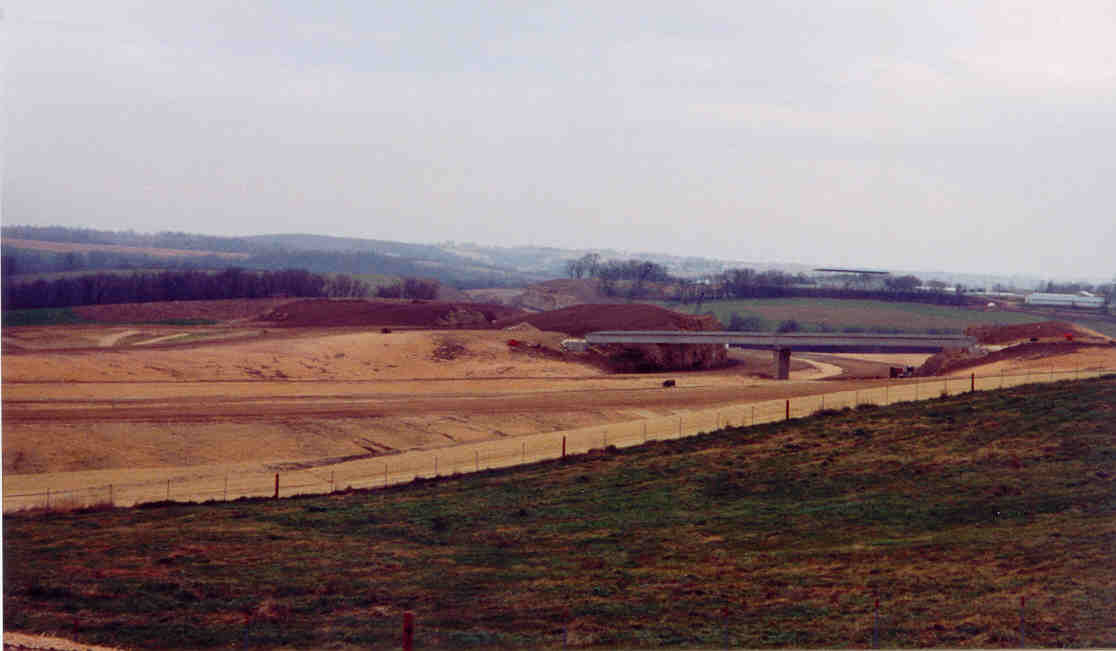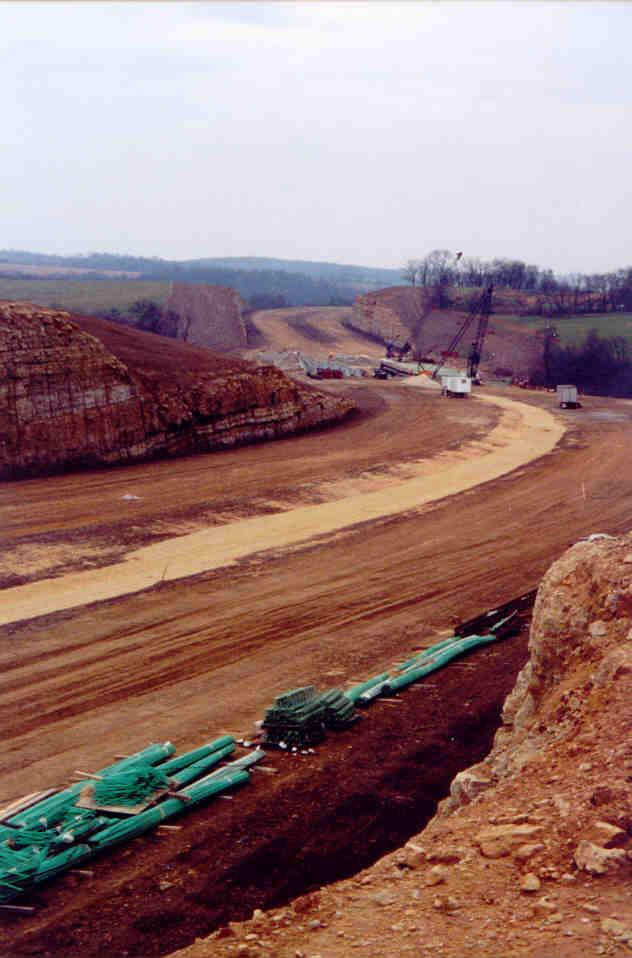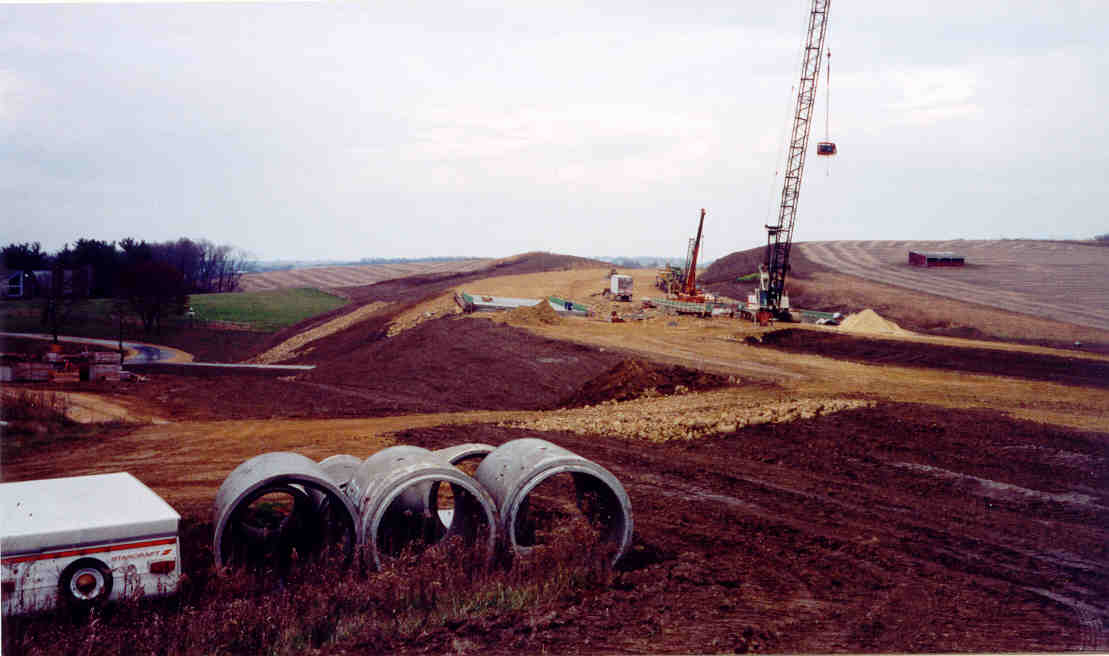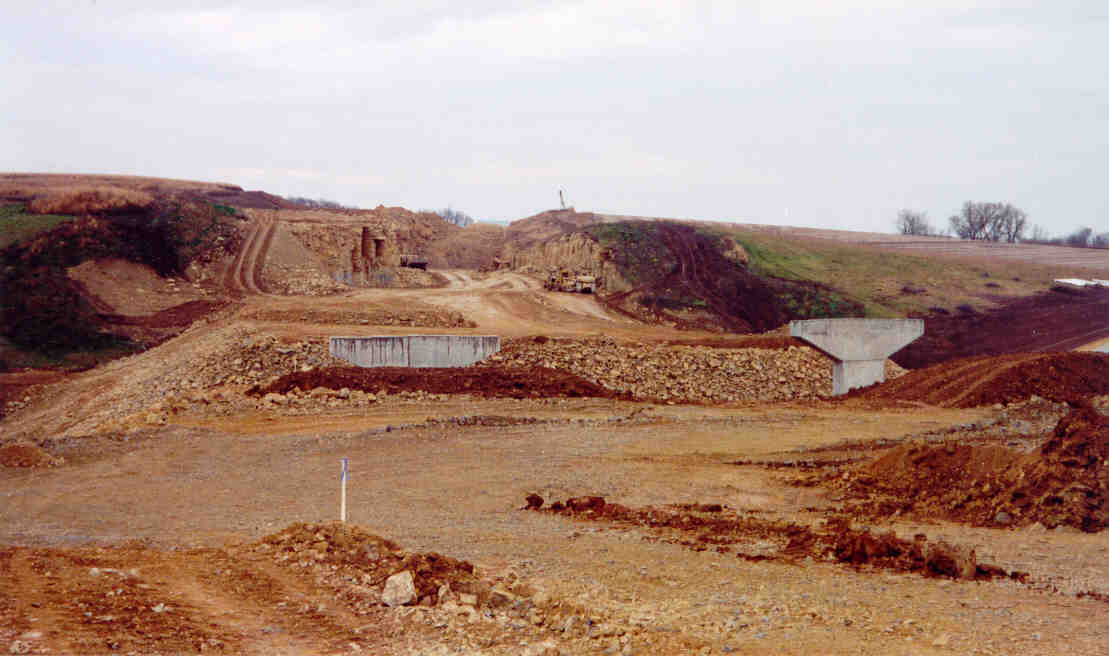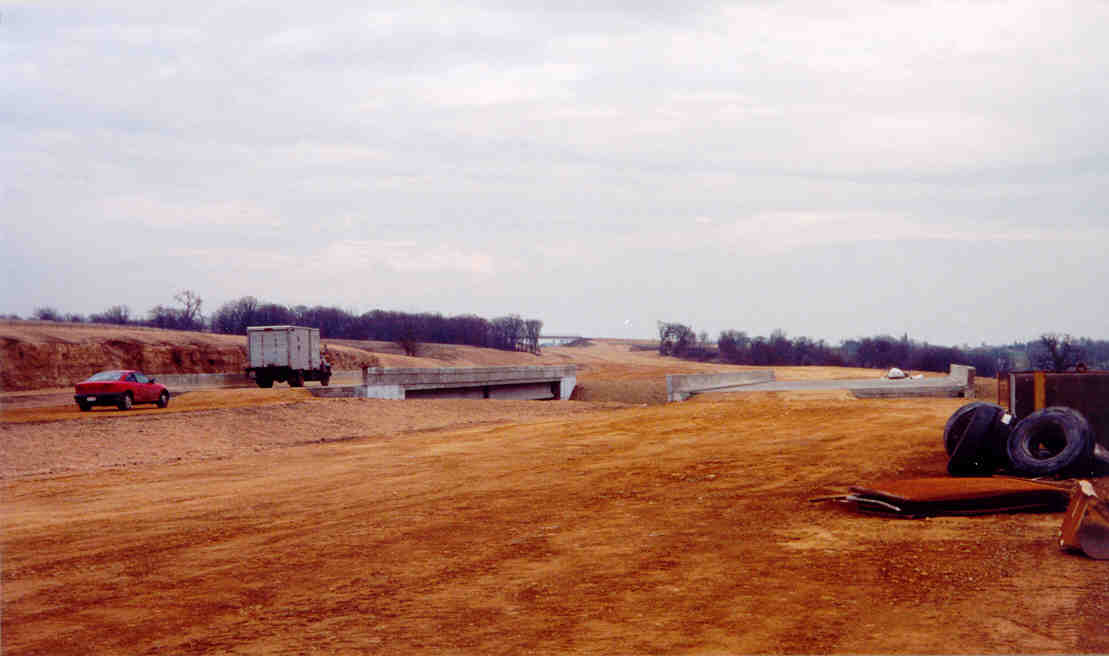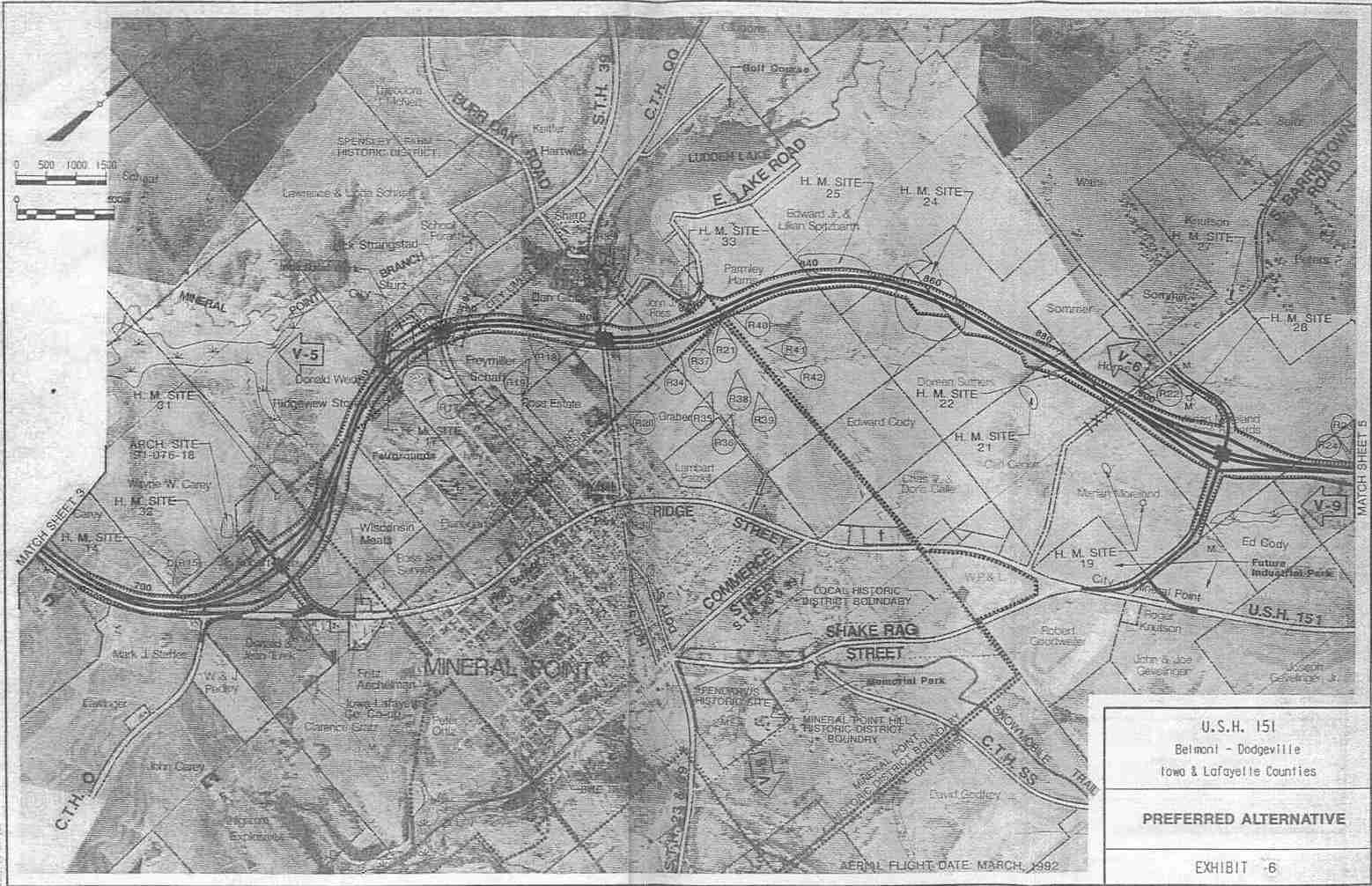 ---
Craig R. Holl / craigholl@hotmail.com / http://www.midwestroads.com / http://www.midwestroads.com/wisconsin/construction/us151/us15101.html / &copy 2001-2003 / Revised February 9, 2003